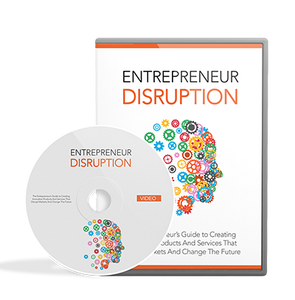 Entrepreneur Disruption
$2600

$26.00

Save $17
Tax included.
---
---
Have you ever dreamed of being a highly successful entrepreneur? Of coming up with a single original idea that helps you to change the world and get incredibly rich along the way?
Imagine just how incredible it would feel to not only benefit from the financial reward that comes from a world-changing idea, but also to get the satisfaction that comes from knowing that you've made a positive impact that will change the fate of mankind.
Can one man or woman really make a difference? Many don't know… why don't you ask Mark Zuckerberg, Elon Musk or Steve Jobs? How about Matt Mullenweg, creator of WordPress? And many don't believe that these people were somehow 'special' either. Very intelligent yes.
Luck? Somewhat. But they were also shrewd business people with passion and an aptitude for asking the right questions – all things that you can learn.
And right now, thanks to the emerging sharing economy, crowdfunding and the amazing tools available to us through the web, it's easier than ever for anyone to become a visionary entrepreneur.
This and much more is what you will learn in this 10 Step-By-Step Video Tutorials!
An email confirmation with your unique download link, is sent to you immediately after your purchase is complete for you to download your product.