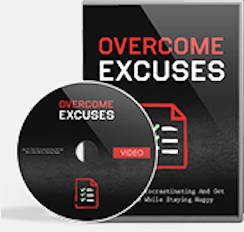 Overcome Excuses
$1300

$13.00

Save $16
Tax included.
---
---
10 exclusive, step-by-step video tutorials that'll show you the tools, techniques and top tips to finally succeed and get results! 
Topics covered:
Top 5 Ways To Avoid Procrastination 
5 Secrets Of Getting Things Done Promptly
How To Do Your Best Work Quickly
How To Remain Happy Even When Busy With Work
Top 3 Ways To Keep Pressure From Getting To You
5 Secrets Of Why You Procrastinate
Top 5 Ways To Improve Your Work Speed
4 Questions To Ask To Know If You Need A New Occupation To Be Happy
4 Questions To Ask To Know If Being An Entrepreneur Is Right For You
5 Secrets To Overcome Procrastination 
An email confirmation with your unique download link, is sent to you immediately after your purchase is complete for you to download your product.