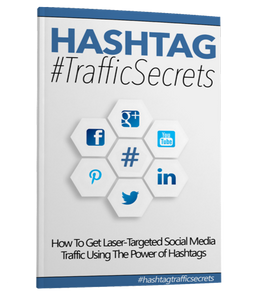 Hashtag Traffic Secrets
$1300

$13.00

Save $13
Tax included.
---
---
Get Laser-Targeted Social Media Traffic Using The Power Of Hashtags!
There are plenty of different ways to drive traffic to your website today, but some are definitely more effective – and attractive – than others.
Social media marketing, more specifically "hashtag marketing", is definitely one of the hottest drivers of organic traffic today and you have to make sure that you are making the most of the hashtags you create online right now to build your business from the ground up.
Make no mistake about it. We live in the middle of the most competitive business environment that has ever existed in human history. Even though we have more tools and more technology available to help us grow our businesses than ever before, the competition is fierce, focused, and coming at us from all corners.
And that's why we have put together this quick list of tips, tricks, strategies and secrets designed to help you really move the needle when it comes to driving targeted social media traffic to your website, your online shop, or marketing funnel.
Make use of as many of these tips and tricks as possible to really hyper-charge your results, and you will be able to hit the ground running with more targeted traffic then you'll know what to do with!
An email confirmation with your unique download link, is sent to you immediately after your purchase is complete for you to download your product.